The Chip 'n' Dale Theory of Relationships
by Angela Dahl (@AngelaDahling)
Opposites attract, but birds of a feather flock together. No wonder we are often confused when it comes to relationships. Yet the combination of the two most common sayings about relationships makes sense, especially when you look at it from the perspective of Disney's mischievous chipmunks. I have a theory that the foundation for a successful relationship depends on whether you're a Chip or a Dale.
Being a Chip means you're the practical, more organized one in the relationship. You're a planner, a leader – one who gets the ball (or acorns) rolling. One might even say that you have a Type A personality (I, however, won't because I only took one psych course… in high school).

A Dale is the more fun-loving, spontaneous one in the relationship. Idiomatically, you go more easily with the flow, and you may have your head in the clouds at times. You could be considered more of a Type B personality.
You do have to be "of a feather" to make any relationship work. There has to be some similarities in interests, values, and goals. But chances are, in the relationships you value the most, one of you is a Chip while the other is a Dale. There's a reason why "opposites attract"; there's a basic human need to find what we are lacking. If we're hungry, we eat. If we can't bring ourselves to do something, we should find someone who will whack us on the head chipmunk-style and make us do it (the whacking is, of course, metaphorical). What I really mean is, any person that you have a significant connection with should support you and keep you in check as you move toward your goals… and this may or may not include a cartoonish thump on the head.
Here's what we can learn from Chip 'n' Dale:

1) Have Fun
Even through troubled times – Donald cutting down their home multiple times over the years, for example – these little guys always manage to have fun. They often turn their troubles into a game, like when they have to round up their acorns to keep Donald from stealing them. If we could add this element of fun to our significant relationships, it'll keep our own problems, or Donald's, from bringing us down.

2) Work Together
Chip and Dale always work as a team. In the classic Disney shorts, you never see one of them going rogue to avenge their stolen acorns; they always go together. Even though sometimes Dale gets a little too distracted, or Chip gets a little cranky, they pull it together and accomplish what they set out to do. Despite their differences, they always work together, and this works for any relationship.
3) Find Balance
The "Punkin Chunkin" episode of Modern Family is the best example, I think, of having balance in a relationship. In this episode, the family divides itself into the Dreamers vs. the Pritchetts (the realists) over Cam's "punkin chunkin" story about launching a pumpkin across a football field. It takes the entire family to get the punkin chunked, and there's a lovely voiceover at the end: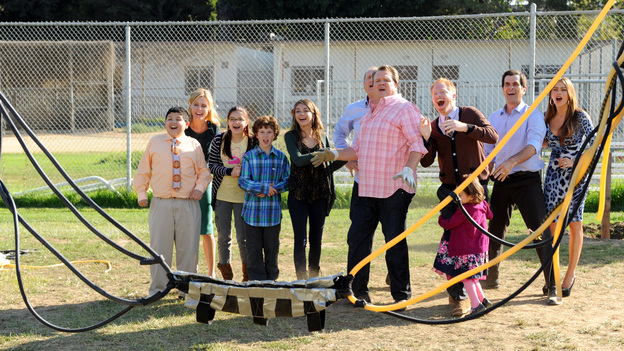 "There are dreamers and there are realists in this world. You'd think the dreamers would find the dreamers, and the realists would find the realists, but more often than not, the opposite is true. You see, the dreamers need the realists to keep them from soaring too close to the sun, and the realists? Well, without the dreamers, they might not ever get off the ground."
On their own, the realists and the dreamers, or the Chips and the Dales, are limited by their own flight pattern. But when you add in another component, punkins can fly across football fields, and chipmunks can outmaneuver an angry duck.
When it comes to finding love, Phoebe from Friends taught us about our lobster (it's a known fact that they mate for life, and you can see old lobster couples walking around in their tanks holding claws). However, maybe we should start focusing on finding our chipmunk.